Edward F. Resch
President/Owner
Ed has been with Ohio Pipe, Valves, & Fittings for 24 years.  Originally started by his grandfather in 1960,  Ohio Pipe has seen four generations of family walk thru its doors.  Although it has changed from pipe bending to the industrial pipe, valve, and fitting distributor it is today, the company values still remain the same.
"I find great pride in continuing to work for and grow, our family business.  I enjoy the personal touch we have with our customers and vendors.  Over the years, I am proud to say that many of the customers I call on, and the vendors I deal with, have become good friends as well."  
Before coming to work in the family business, Ed worked at Wheatland Tube, on the hot mill, making the pipe that he now sells.  Working in the mill grew Ed's interest in how everything is made.  He loves seeing all the different company's processes and be able to help maintain their process through what we sell.
When Ed is not working, he enjoys spending time with his family and traveling.  He also loves playing golf, although not as often as he would like.

Tom Riggle
Sales Manager
Tom has been working at Automated Valve & Ohio Pipe for 15 years. He is the sales manager and an expert in valve automation. He enjoys the challenge of figuring out new processes and hunting for new business. He usually gets injured every two years as riding BMX and MTB bikes are his passion. As much as his wife would like him too, he just can't give it up!

Harry Thakkar
Staff Accountant/Human Resources
Harry Thakkar has been with Ohio Pipe for 7 years.  He is a CPA by education, working as one in all his previous jobs.  Harry loves his job, even coming into the office on Saturdays and Sundays to get ahead on his work.  His grandkids in Atlanta give him a ton of joy and he looks forward to visits with them when he can.

Tom Neuman
Industrial Sales
Tom has been an outside pipe-valve-& fitting salesman for over 44 years – – the last 27 at the Ohio Pipe, Valves, & Fittings Company. Experienced in providing piping products for hydraulic – pneumatic – and steam systems. He is rarely in the office – always on the go looking at new pipe projects or advising on process upgrades. Don't call in to Ohio Pipe, Valves, & Fittings Company or Automated Valve & Equipment – and ask for "Tom" (there are 3 "Toms" in our organization) – just ask for "Neuman".

Thaddeus "Tad" E. Resch
Industrial Sales/Warehouse Manager
Ohio Pipe has been in the Resch family since 1960 and Tad is a 4th generation Resch to work at Ohio Pipe.  He is an avid sports fan, who graduated from the University of Cincinnati in 2016 studying Marketing and Professional Sales.  Cincinnati was Tad's home for about a year after graduation where he worked on a sales team selling ERP software, before deciding to come home and work for the family business.  Tad always knew OPV was somewhere he would end up. 
"Growing up and watching the relationships my dad built was pretty cool.  Not many people have the opportunity or blessing to follow their dad's footsteps like that and since I always looked up to him it was a no brainer this is what I wanted to do." 
Sales in general appealed to him because he liked the idea of helping people with their problems and being able to provide solutions.  Tad can be found attending Browns, Indians, & Cavs games while enjoying a couple of his favorite beverages.     

Chad Hopper
Industrial Sales
Chad is the latest hire and is new to Industrial Sales. Although he is new to sales, he is not new to the industry. Chad served as a Millwright/Machinist for 24 years. He also is a licensed Third Class Stationary Engineer. Chad made the switch to sales because of his intense interest in industrial processes. He looks forward to his evenings with his family. He has teenage kids that are involved in multiple sports and the familiy stays active with sports in the evenings. Chad is excited to solve problems and help keep maintenance departments going by supporting them in anyway possible.


Dave Chester
Inside Sales
Dave has been with Ohio Pipe Valves & Fittings for 42 years, working with the founder, Edward F. Resch Sr. He is now inside sales and the warehouse manager. His favorite part about working at Ohio Pipe is helping out his customers, along with the people he works with and management. His years of hard work show his love for the company and the people. When he isn't working, he enjoys landscaping and fishing. Once he retires, he plans on buying a bass boat, fishing, and traveling.

Joanne Wynne
Inside Sales
Joanne Wynne has been with Automated Valve & Equipment since 1987.  She remembers when the old building used to be on Dennison and W 52nd before moving across the driveway to OPV on Trent Avenue.  An Irishwoman at heart, she has her customers trained to know she takes off every year on the 17th of March.     

Tom "TMac" McNamara
Inside Sales
Tom has been working for Automated Valve as an Inside Sales Rep for 8 years.  He held a similar position with his former company Techniquip, Inc., since 1991.  Techniquip, Inc was acquired by Ohio Pipe Valve & Fittings in 2005.
Tom enjoys tackling tough applications including, but not limited to, sizing quarter-turn pneumatic & electric automation – sizing v-ball control valves per specific media flow conditions.  Tom rates solving customer's problems as the most satisfying aspect of his job.  Tom has worked as a color commentator on high school football radio broadcasts and he remains an avid football fan to this day.  Tom is a proud stroke survivor that has managed to thrive, despite the physical limitations after overcoming a major ischemic stroke in 2007.


Amanda Snoddy
Inside/Outside Sales
Amanda has been in the industry for almost 16 years, 5 of which are here at Ohio Pipe. She enjoys building rapport with new and existing customers.  She also has a knack for working with contractors and reading job specs and searching out uncommon/hard-to-find items.
Amanda enjoys spending time with her son and partner. She also enjoys her "me time" of working in the yard.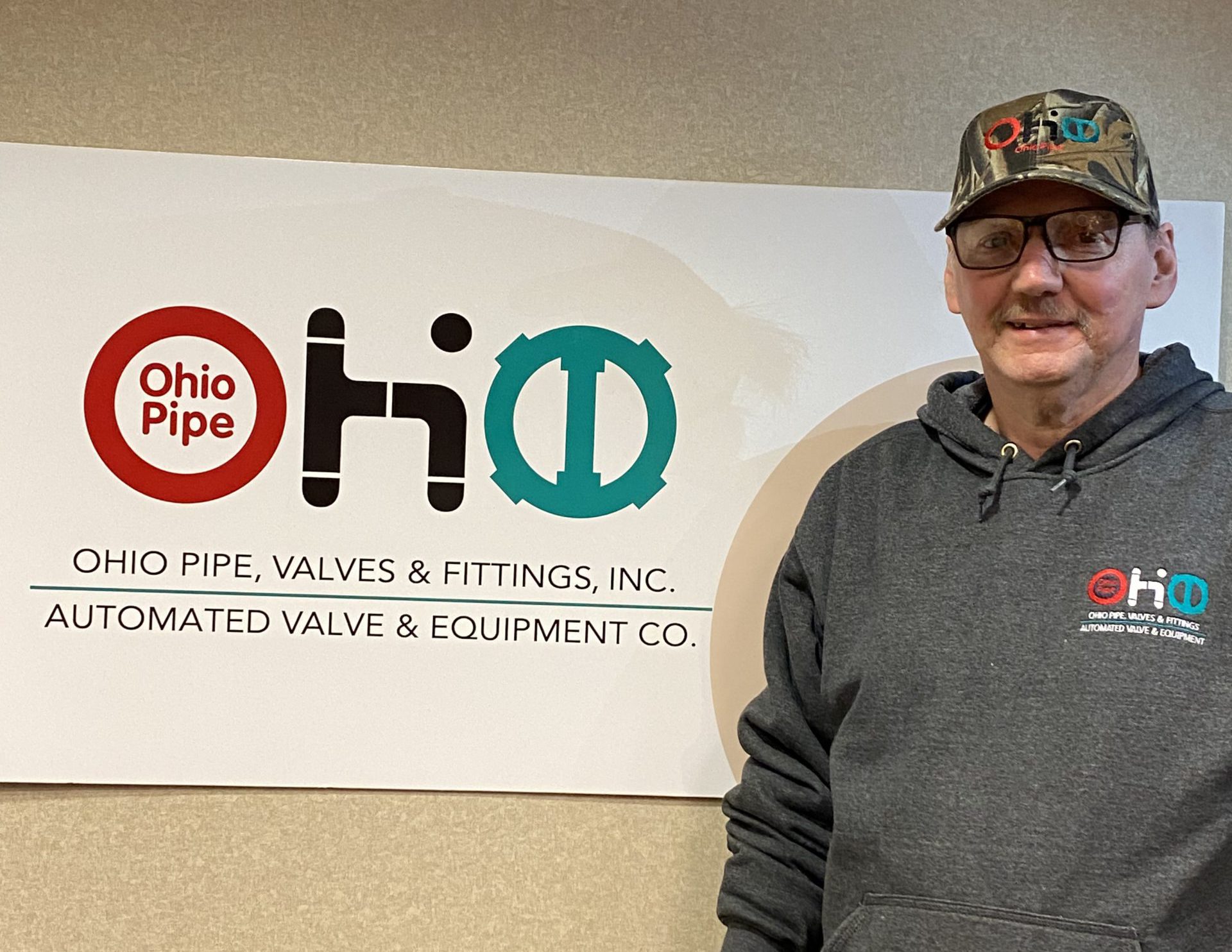 Ricky Milam
Warehouse
Ricky has been with Ohio Pipe, Valves, & Fittings for 27 years.  He works in the warehouse, teaches new employees, and enjoys coming in each day to work hard.  Ricky is a leader of his pool league and competes often.

Jeremy Williams
Warehouse
Jeremy has been with Ohio Pipe since November 2022.  Originally from Chicago, Jeremy moved here in 2007.  He likes to travel and hopes to see Dubai one day.  In his spare time, Jeremy plays basketball and pool.  He has a 5 year old son, Jeremy Jr.


David Moore
Pipe Fabrication Specialist
David has been working for Ohio Pipe Valves & Fittings for 8 years. He is an automation and pipe fabrication specialist. He enjoys the mathematics and precision while working, making sure each piece is perfect for the customers. David was voted best entertainer in Scene Magazine and one day wants to rebuild a '58 Impala.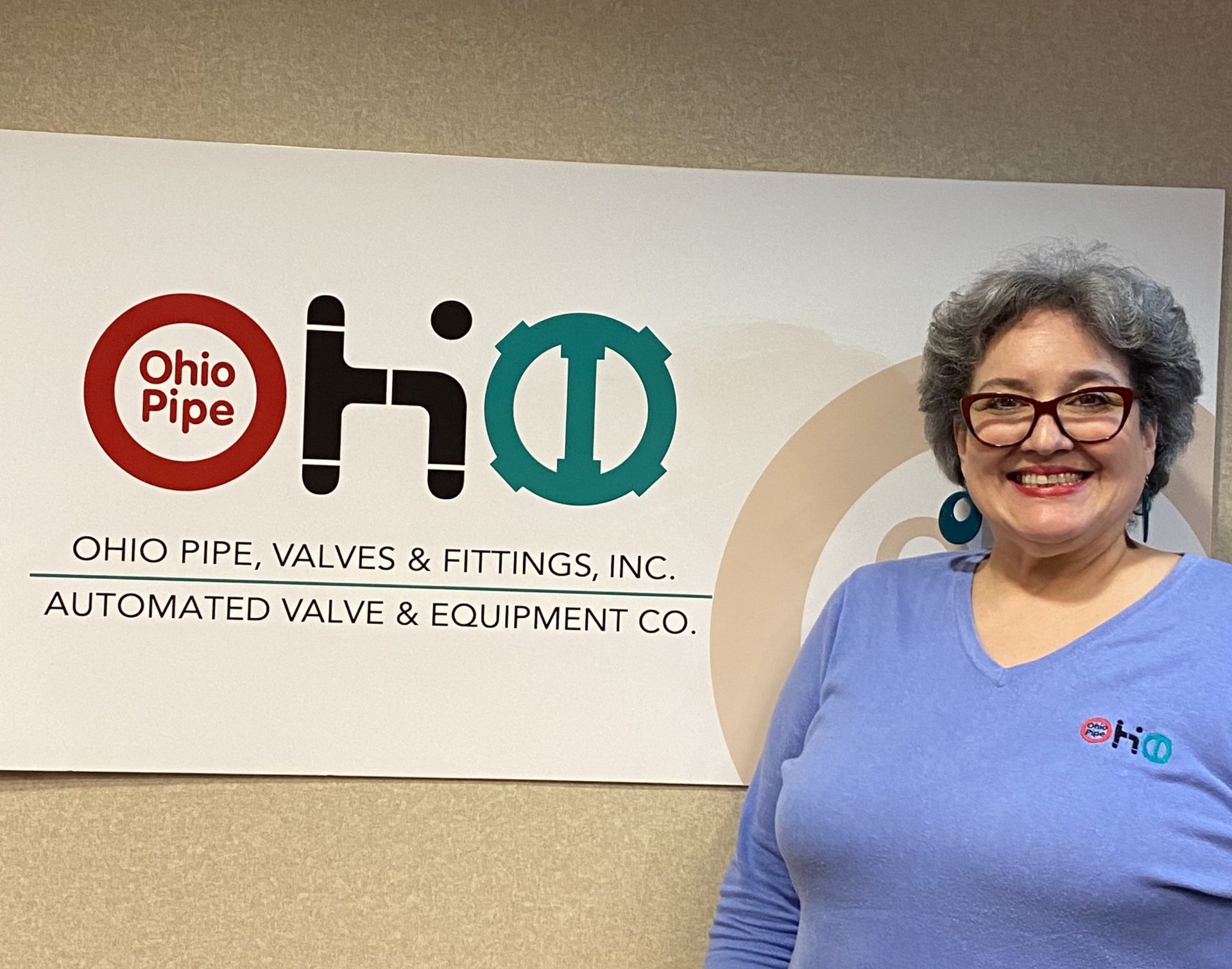 Maggie Irizarry
Office Administrator
Maggie has been with the OPV family for 8 years.  A stickler for organization and details, Maggie likes to remain organized and helps the office do so as well.  She had a number of different positions helping her gain a wide variety of office experience before settling down with OPV.  A wine lover, Maggie used to sing professionally back in the 90's.  Now she simply enjoys spending time with her daughters and grandchildren.

Gwyneth Resch
Marketing & Content Analyst
Gwyneth is a 4th generation Resch working at Ohio Pipe. She graduated from the University of Cincinnati with a degree in marketing. As she continues to learn the ins and outs of the business, she is excited to help Ohio Pipe grow and bring new knowledge into the company. She loves photography and writing and hopes to bring those skills to work with her.  In her free time, she loves playing with her puppy who occasionally comes to visit at the office!